Bet on a software that prioritizes employee-manager communication and discover the benefits in time and management dynamics.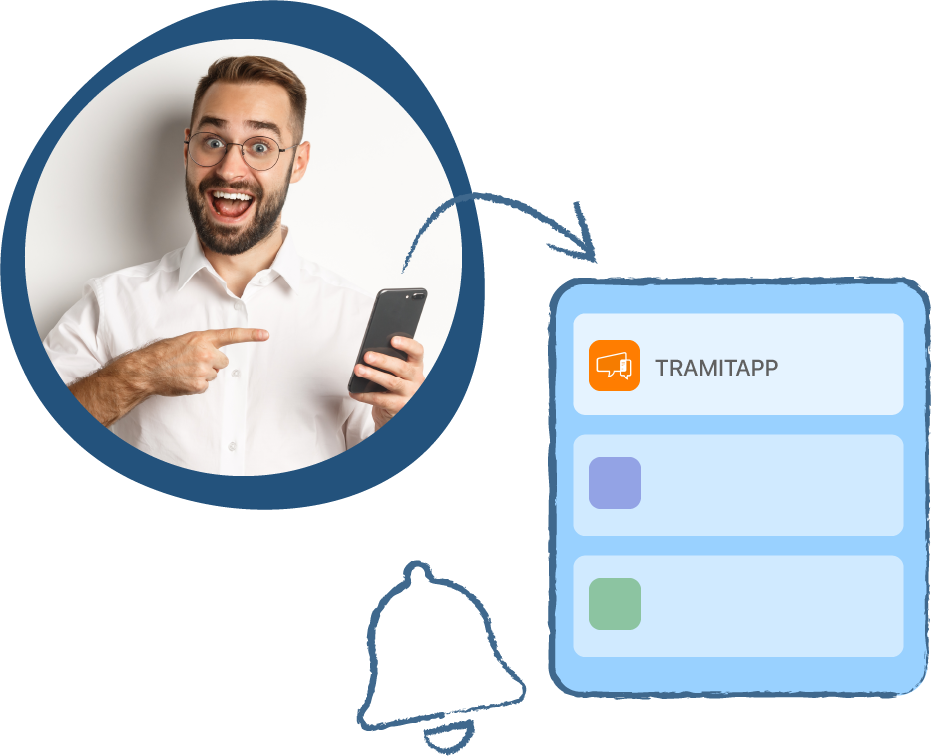 Bring HR to each employee's pocket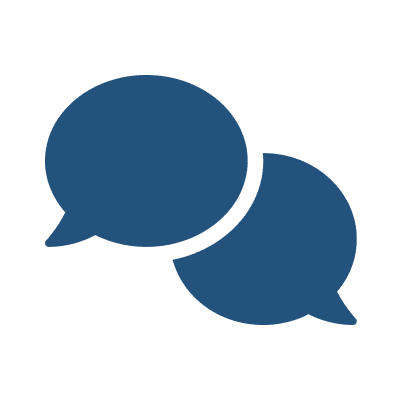 Communication is everything
Concentrate the different channels of communication with the employee in a single software, completely digital.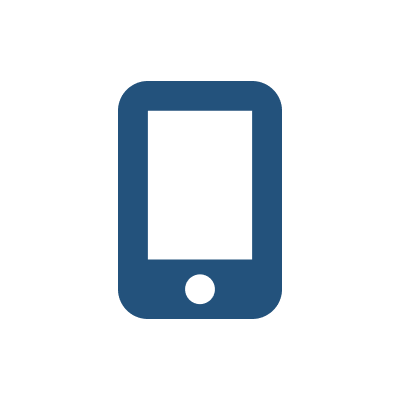 Official communication channel
From TramitApp send communications and documents to the entire staff and obtain secure and unique certificates, with the legal validity of a borofax.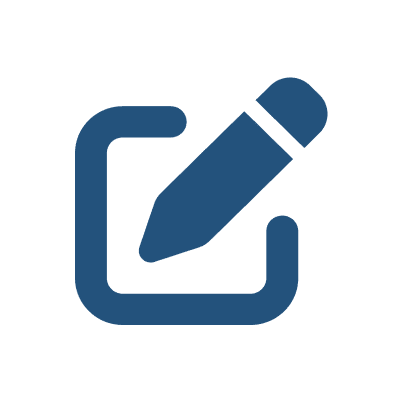 Adding notes and comments in request management will help managers and workers in their daily communication.
Request a demo and we'll show you how it works.
We give you 15 days of free access.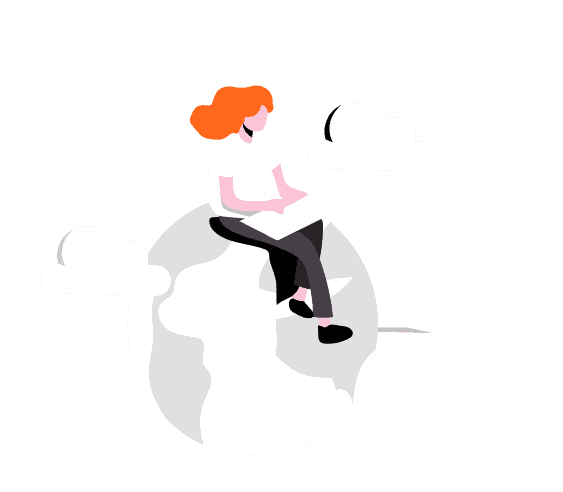 Develop your entire internal communication network from a single platform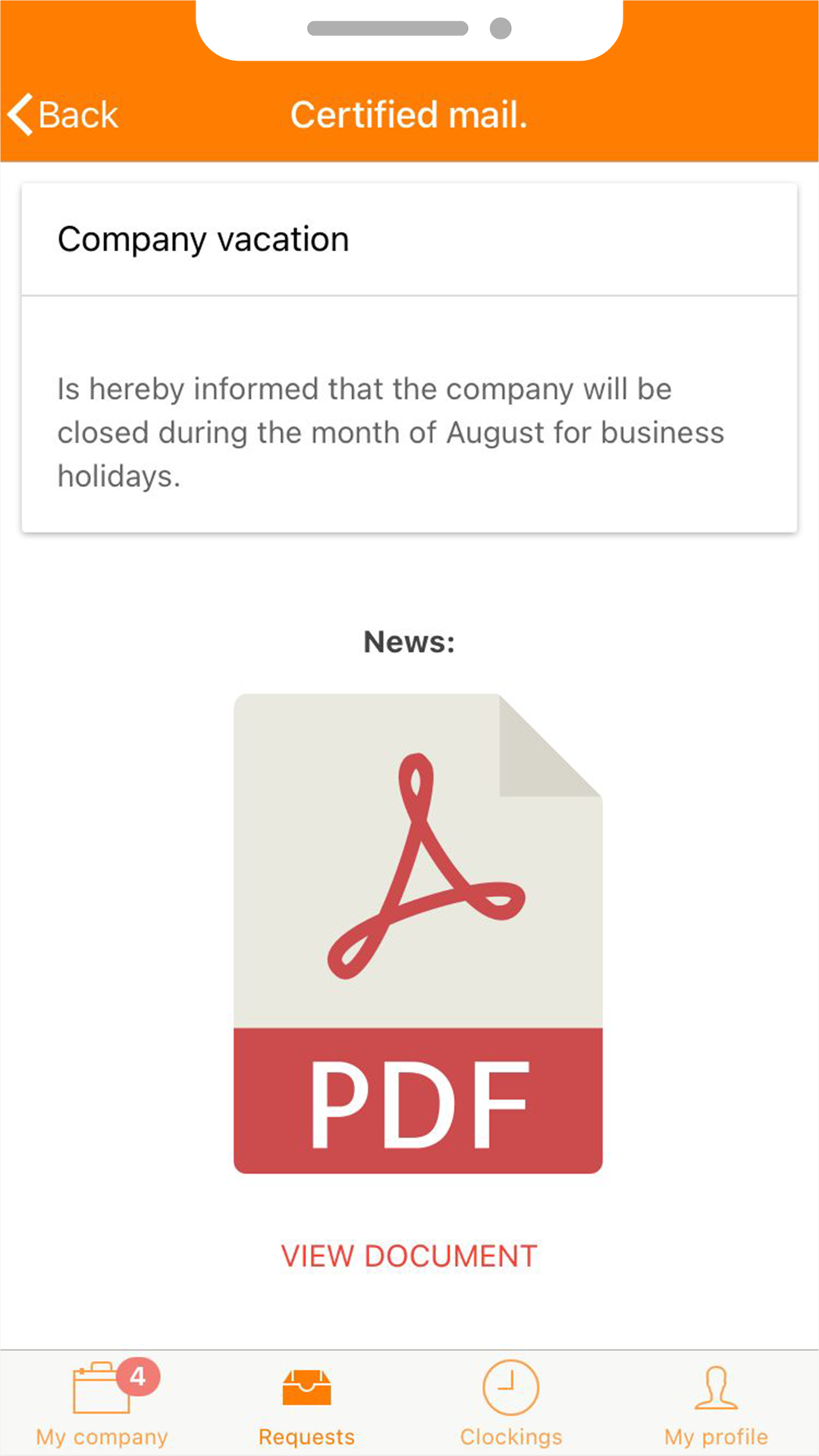 An official communication channel
Use tools such as certified email and electronic signature to have legal validity in the sending and signing of communications in your company.
Secure and agile
Receipt certificates for documents
With blockchain technology
Promotes remote and asynchronous communication
Thanks to digitization, we can communicate effectively from anywhere. Take care of the internal communication of your company without limiting presence.
Perfect for telework cases
Real-time communication
From any device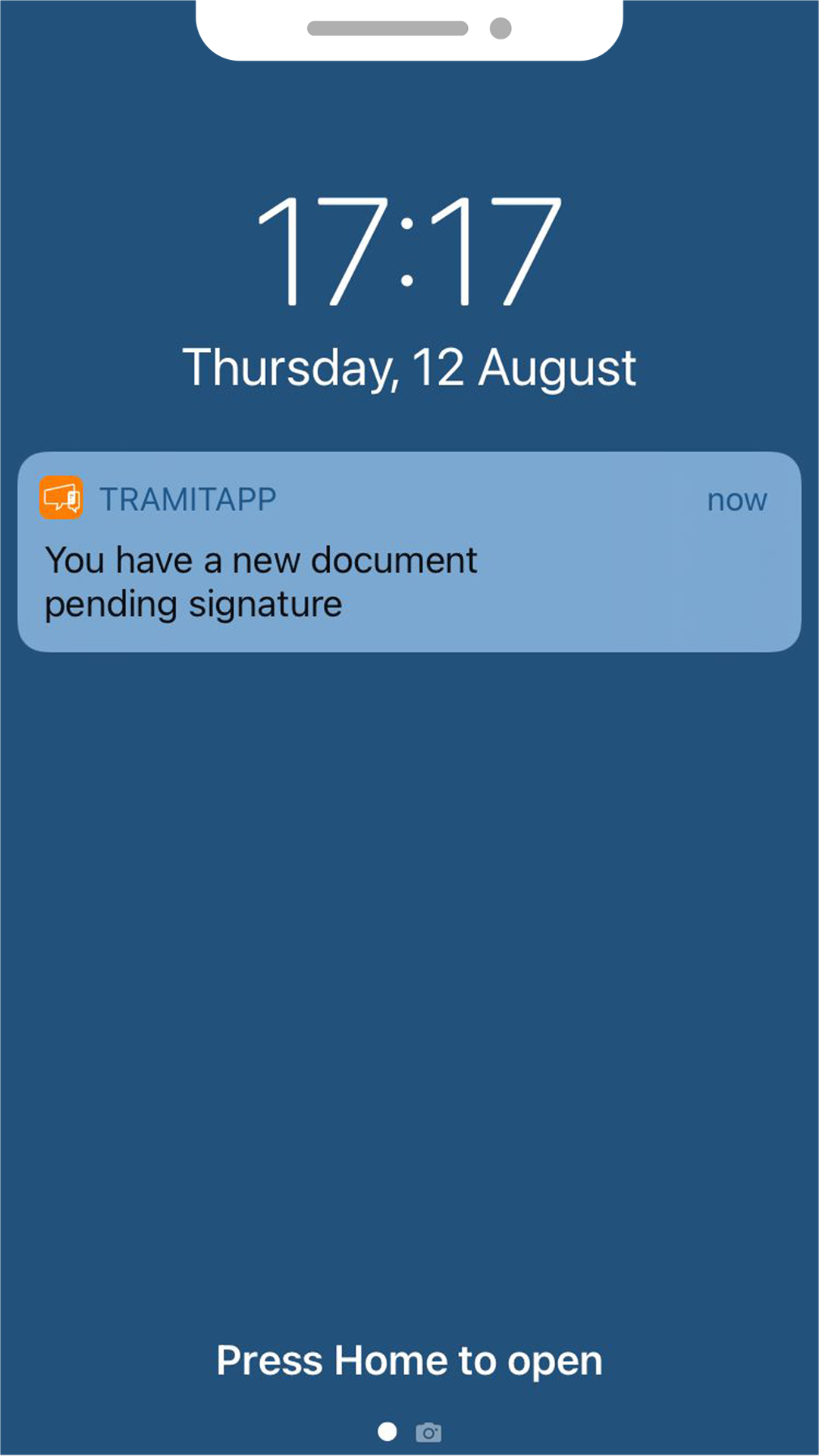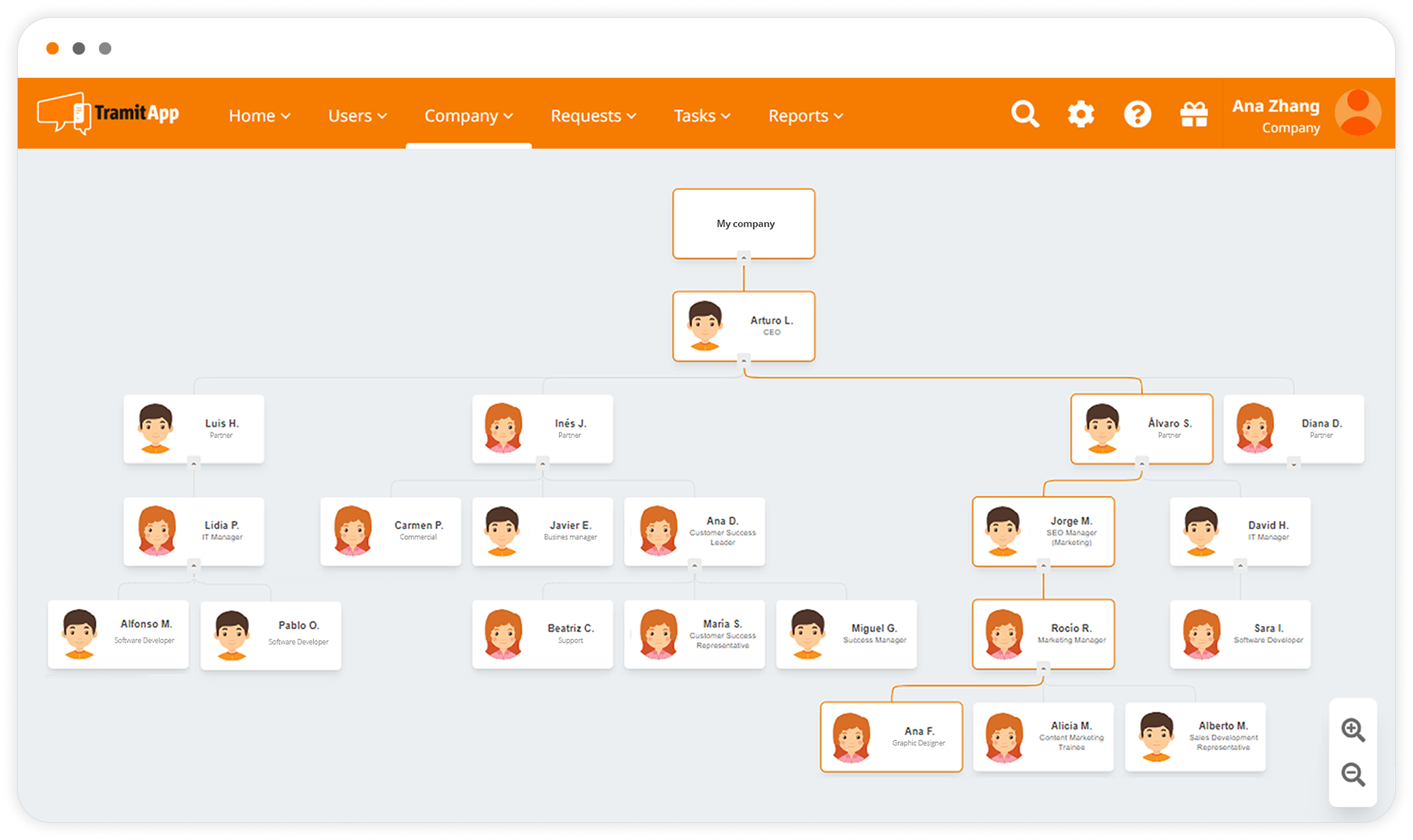 Company organizational chart
Knowing who's who within your company is important so that people know who to turn to when they have a problem or suggestion. TramitApp's company organizational chart allows visualization by level, simplifying the map of relationships between employees.
Dynamic company organizational chart
It is updated every time an employee is added or dismissed
Different levels of visualization
Put the employee at the center of the company
Allow your employees to freely express their opinions through a suggestion box so that information flows in both directions.
It is also possible to activate a completely anonymous complaint box to comply with the Whistleblower directive.
Centralize requests
Suggestion box
Anonymous complaint channel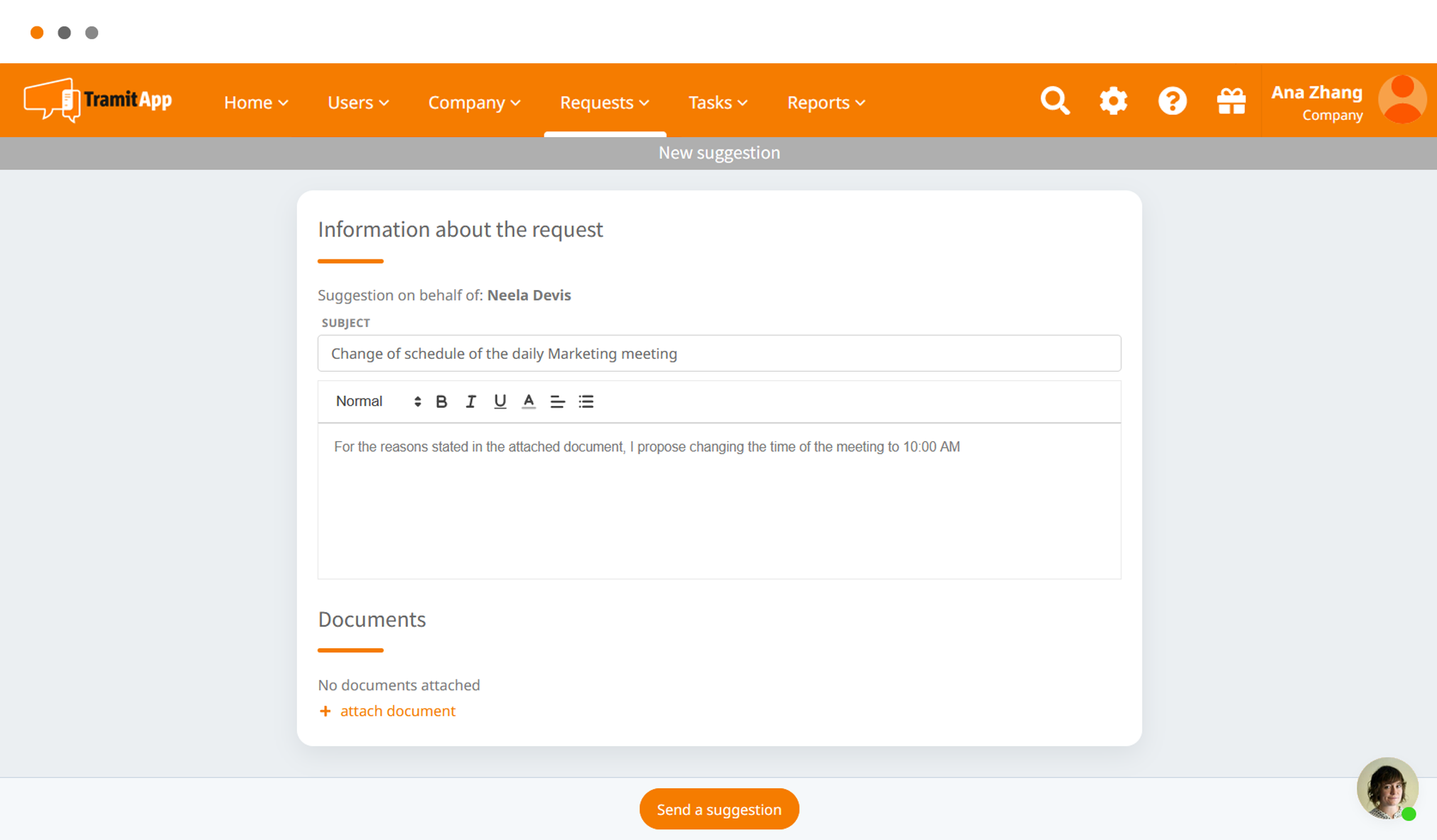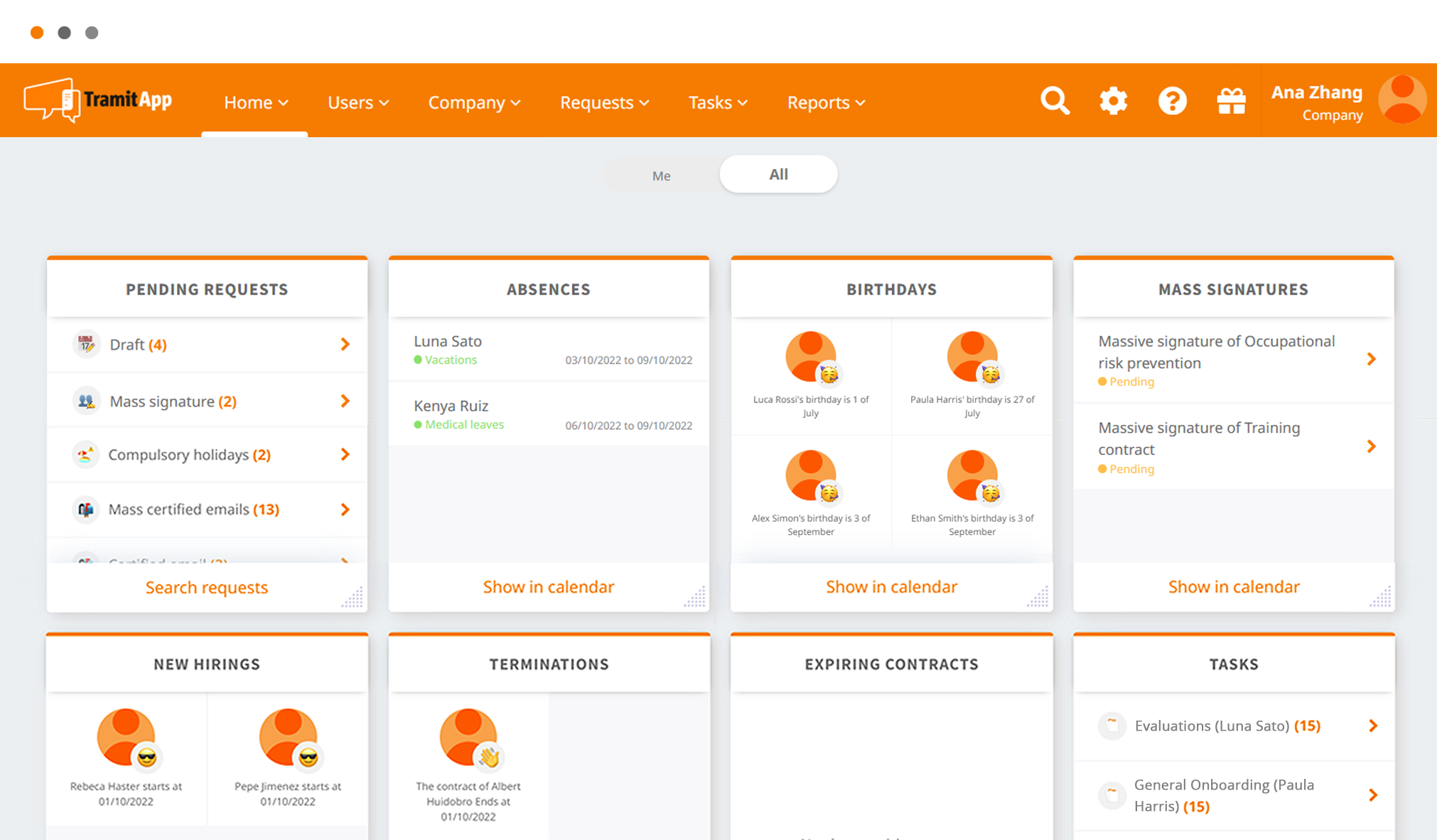 Bet on internal communication
Good internal communication translates into better team performance and the focus on a single company goal. Thanks to our notice board, the mass sending of documents and the questions and answers section, you will have a single channel to make all the information that employees need available.
Optimize staff productivity
Promotes a good work environment
Reduces the ecological footprint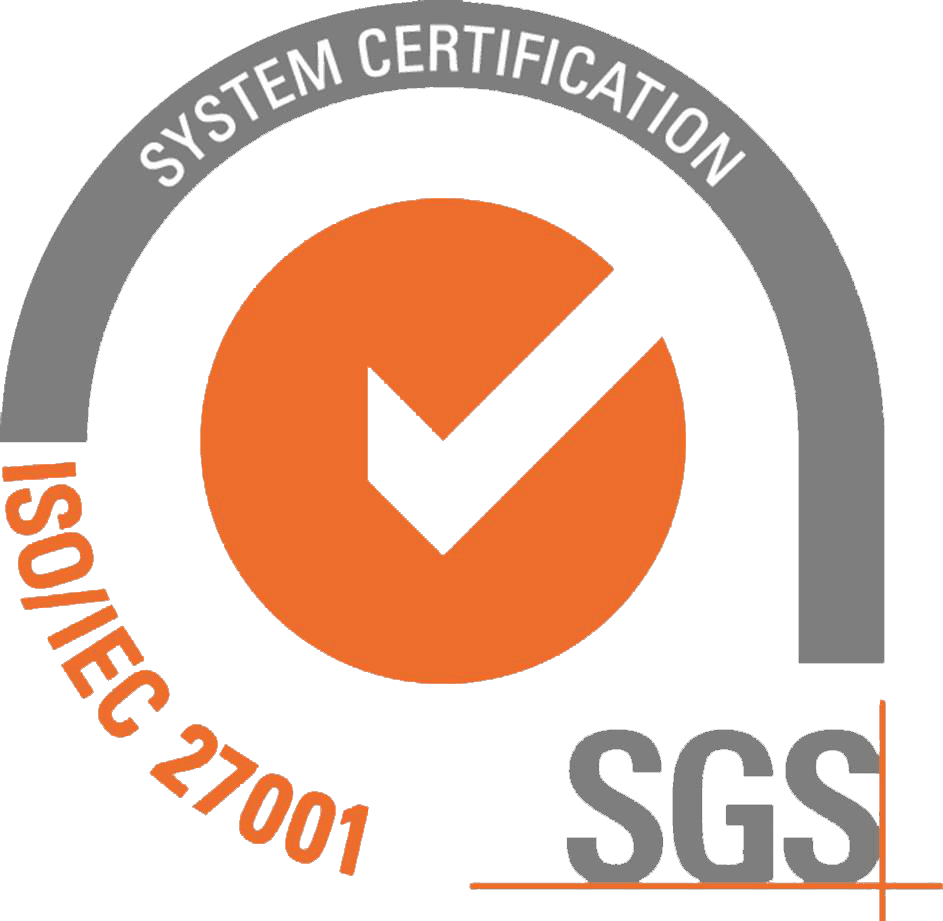 TramitApp is an ISO 27001 certified company. This standard ensures the confidentiality and integrity of all information as well as the systems that process it.
What our customers say about us
Easy-to-use tool fully adaptable to the particularities of our entity. Immediate and efficient service.
We have felt very accompanied at all times by TramitApp, from the beginning they have helped us to adapt the Workday Registration tool to our needs, to acquire knowledge about its use and to solve the doubts that have arisen on a day-to-day basis. They are a great team and very involved in meeting the needs of their Client.
The tools provided by TramitApp are a must for our day-to-day management, but the human team behind working for the client is the differential value
Trusted by more than
1500 companies